THE BEST HAIRSTYLES FROM THE GOYA AWARDS 2022
Discover the most trendy looks seen at the 2022 Goya Awards ceremony of the Spanish Film Academy.
Termix is back in the backstage with the stylist Lorena Morlote, creating and retouching the hairstyles of the actresses and actors who have awarded the prizes.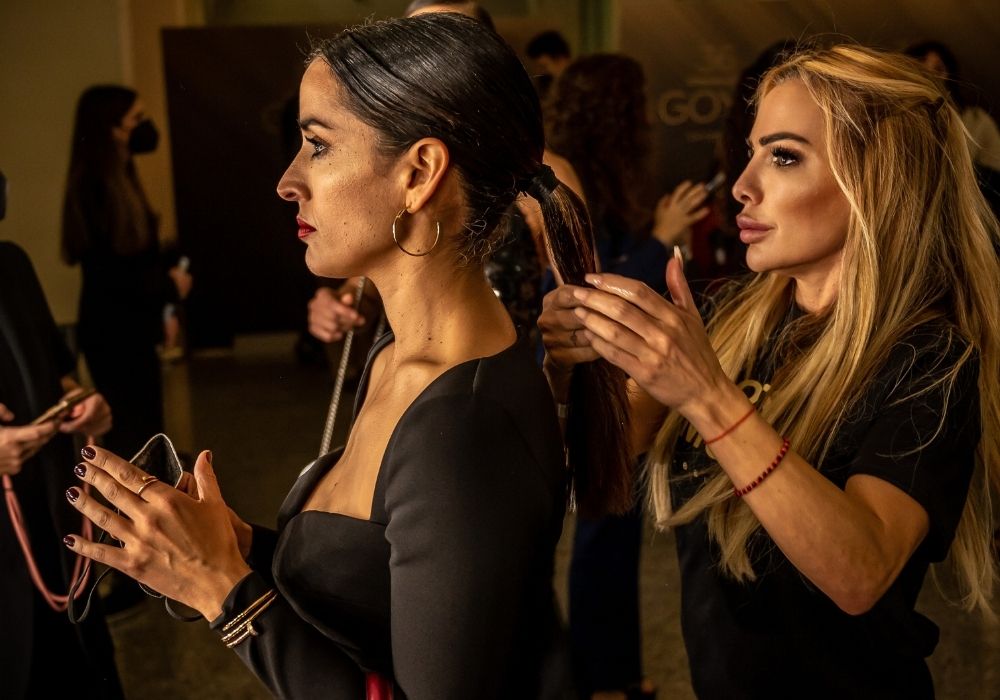 This weekend has been the 36th gala for the Goya 2022 Awards Ceremony, leaving us with great hairstyle ideas that we cannot stop putting into practice.
Termix ambassador Lorena Morlote is the director of hair and makeup for the ceremony. Since 10 in the morning she was styling actors, actresses and professionals from the world of cinema. In addition, during the ceremony, she and her team were installed in the backstage of the Palau de les Arts in Valencia. There the actors in charge of delivering prizes passed before their appearance to make the final touches.
And after an intense weekend, we talk to Lorena and she explains to us what are the hairstyles that have stood out at the Goya 2022. Are you ready?

ULTRA POLISHED HAIRSTYLE
Lorena Morlote explains that buns or pigtails with well-pulled and polished roots are a classic hairstyle that never fails at an event. Inma Cuesta, Juana Acosta o Verónica Echegui, for example, wear it with a line in the middle.
"The ideal is to use a special brush for updos with natural bristles," explains Morlote. Its double-height boar fibers allow the root to be manipulated to taste and achieve a perfect finish. "Then it is key to use a fixing product. The Sexy Style.Me professional strong hairspray seals the hairstyle and also protects it against humidity. And, if you also want to enhance the shine, the Style.Me Glossy Spray helps to obtain that glass hair effect».
View this post on Instagram

PIXIE
The pixie haircut of the actress Belén Cuesta is very stylish and brings a lot of personality. How to wear it? When it comes to cutting your hair, it is better to opt for a cut with layers, parades, asymmetrical… And above all, avoiding the volume on the sides.
You can style it with a touch of Hardy mousse: in addition to fixing, it creates a protective film that hydrates the hair and adds volume and elasticity for maximum creative freedom.
View this post on Instagram

BLUNT FRINGE
A fringe like the one worn by the singer-songwriter Rozalén, which will fit you perfectly both in loose hairstyles with waves and in unstructured updos. In addition, it is a fringe that adds a very cool touch to your look, since it frames the look and provides that sexy and daring style.
To style it, you only need an Evolution round brush and the Termix 4300 dryer. In just 3 passes and with the dryer at a medium temperature, you will get a profiled fringe and… Goodbye to frizz!
View this post on Instagram

BABY HAIR
At Termix we already announced that baby hair is going to be a trend this 2022. The actress, singer, writer, influencer, and ultimately, an icon of the new popular culture, Jedet, didn't hesitate to wear them inspired by Sara Montiel.
To select them, Morlote uses a metal-tipped comb to pull out the tiny hairs you want to show off. Then, she applied a little Shapy strong hair gel, ideal for a wet effect finish. In addition to fixing baby hair for hours, with this gel you will provide hydration and shine thanks to being enriched with orchid and quinoa essential oils.
View this post on Instagram

BOB
With their perfectly smooth bob cut, Macarena Gómez y Najwa Nimri have opted for simplicity in hairstyle. The bob cut is very easy, comfortable and quick to style. «If you opt for a smooth finish, it is ideal to use the 230º hair straightener. Adapting it to a specific temperature according to your hair type, and using the thermo-protective spray at the same time, you will not harm the health of the hair", explains Lorena Morlote.
To finish, a touch of our Sexy hairspray that will fix the hairstyle in a perfect way without weighing it down.
View this post on Instagram
TERMIX AT THE GOYA AWARDS BACKSTAGE
One more year of an experience that both Lorena and Termix will never forget. Because hairstyling stars like Belén Cuesta, Macarena Gómez, Michelle Jenner, Pedro Almodóvar, Paco León, Eduardo Casanova, Álvaro Morte, Rozalén… is, without a doubt, a dream come true. And these are just a few examples of celebrities from the world of Spanish cinema who have allowed themselves to be retouched by Termix products and tools.
By the way, what hairstyles from the Goya awards did you like the most? Share your opinion with us in the comments!