Do you have a spring getaway planned? Are you already preparing the summer holidays? These hair care tips will be your main guide to looking beautiful while traveling. Discover how to use the Termix Mini Travel Kit and travel with perfect hair wherever you go.
Get ready for your next vacation: you have the tickets, the suitcase packed, the itinerary planned… Even your beauty kit! Just as you buy products with mini sizes for your skin care and makeup, you shouldn't forget your hair. Luckily, Termix offers you some tips and tools so that you look amazing during your trip and continue taking care of your hair like at home.
HAIR TIPS FOR TRAVEL:

HYDRATE
Do more than just drink water! During the holidays, there are aspects that can leave your hair dry, full of static electricity. Flying, the daily sun, outdoor activities, the beach, the pool… To avoid this effect, apply a few drops of Revive revitalizing oil, with which you will restore the vitality of your hair. Contains quinoa and orchid extract that provides softness and elasticity to the hair. Plus, it adds shine and eliminates frizz!

BYE BYE FRIZZ
One of the tricks that have always been used, both to avoid frizz and not to mess up your hair during a road trip or plane, is to protect your hair with a silk scarf. In addition to looking super glamorous like a Hollywood actress, you will create a barrier between your hair and the friction with the headrest!
View this post on Instagram
View this post on Instagram

PROPER DRYING
During the holidays, we want to go fast and we tend to dry our hair by moving the dryer to all sides. Even put the head down to dry faster from other angles. Did you know that in this way the only thing you get is to encourage frizz? So the baby hairs point in all directions! For this reason, always drying with the nozzle of the dryer directed downwards will avoid the dreaded frizz.

MULTIPURPOSE BRUSH
Opt to carry just one multi-purpose brush. Detangling and help dry hair quickly. The Detangling brush, for example, apart from being small and handy, detangles both dry and wet hair. And without pulling thanks to the special anti-pulling fibers and the flexible body of the brush, adapting to each head and type of hair. In addition, you can use the dryer to speed up drying thanks to the perforated base of the brush, which allows air to pass easily.

DRY SHAMPOO
You can apply a dry shampoo to revive your hair if you don't have time to wash it. Dusty volumizing powder, in addition to adding volume, provides a long-lasting matte texture after application, and removes fatty oils from the hair.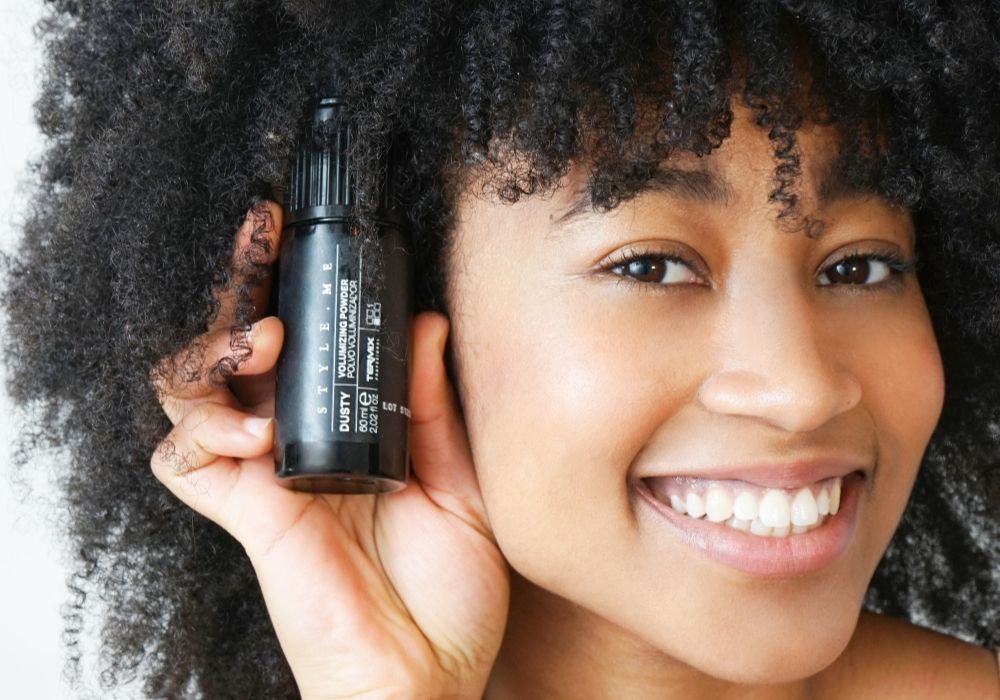 CHOOSE THE CURLY
During the holidays, you can also choose to leave your hair with its natural waves! And more if you don't have time between swimming pools and barbeques. With the Curly modeling fluid you can define your waves or curls, providing a totally natural movement. In addition, with this product you also avoid frizz while nourishing the hair thanks to the moisturizing agents of quinoa and orchid.

TRAVEL TOOLS
Choosing your hair tools well should remain your top priority, even on vacation. Let them be of quality. Take the least. And that they weigh little and are manageable. At Termix we have the Mini Travel Kit: a selection of 4 professional mini tools in the ideal travel format to always carry with you.
The kit consists of a mini hair straightener. Like the other Termix hair straighteners, it has a temperature regulator to adjust the heat depending on your hair type and thus avoid damaging it. A small, powerful and foldable mini dryer. A multi-purpose Detangling brush and two Soft Touch tweezers to help you achieve your favorite looks. All this inside a magnificent and luxurious velvet travel bag.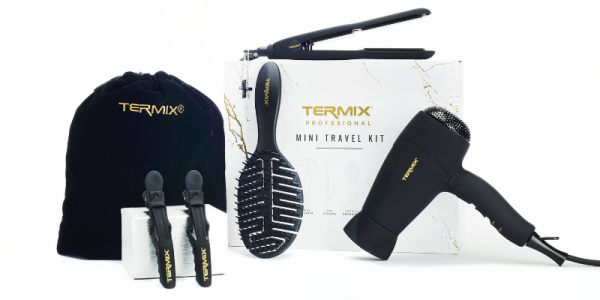 PLAN AHEAD
Finally, think about your hairstyles in advance! In the same way that you prepare the looks that you will wear at each moment of your vacation, a good way to prepare well is to plan your hairstyles in advance. This way you will know what tools and products you will use!
Performing different looks is easier than you think. And more if you use professional tools for it. For example, the mini hair straightener included in the Mini Travel Kit is perfect. Its rounded finish at the ends makes it an ideal hair straightener for multiple hairstyles.